'Simile-Evidence-Reasoning' — An Argument-Based Character Analysis Activity
We are probably all very familiar with the Toulmin-based universal argument model of Claim — Evidence — Reasoning.  In building our students' disciplinary literacy, though, all three of these components — as well as the Argument-Centered Education components of "refutation" and "argument evaluation" — can be adapted to subject area specific standards, objectives, criteria, and conventions.
This is what Daniel Hale Williams Prep (Chicago, IL) English teacher Adrienne Handelman did — with ACE's collaborative support — to a project for her 10th grade class's unit on A Raisin in the Sun.  Ms. Handelman wanted to use the Langston Hughes 1951 poem "A Dream Deferred," which Lorraine Hansberry's play uses in its title and as its epigraph, as a route in to their analysis of characters in the drama.  She also wanted students to work with, interpret, and create similes and metaphors, addressing her conviction of the foundational importance of figurative language to literary studies, and the ubiquity of figurative language comprehension in external educational standards for 10th graders, such as the Common Core —
CCSS.ELA-Literacy.L.9-10.5
Demonstrate understanding of figurative language, word relationships, and nuances in word meanings.
So she designed (with some ACE assistance) an activity that has students making what amount to arguments analyzing A Raisin in the Sun's main characters, by creating a simile for a "dream deferred" from the perspective of each character — a form of an argumentative claim, in the context of the reader's analysis and interpretation of that character — then having to quote a passage from the play that would suggest the simile created.  Following identification of the passage, students supply reasoning that analyzes the ways in which the passage suggest the character's understanding of what it means to have one's "dream deferred" captured by the simile.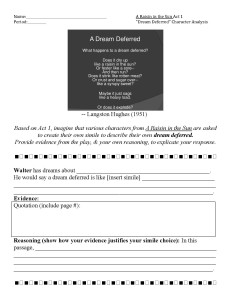 Students create arguments that advance their interpretations of who the characters are, what they value, how they respond to their world, by creating similes (functionally, character analysis claims) that are supported by evidence and reasoning.
Because Ms. Handelman has diverse learners in her 10th grade English classes (provided additional direct instruction at Williams Prep by the highly professional Susan Robinson), we developed a differentiated version of this argument-centered project, providing these students with additional supports.  These supports come in the form of a "simile bank" from which students can choose similes that A Raisin in the Sun characters might use to describe their deferred dreams, along with a set of selected passages from the text that align with each of the similes in the bank.  Diverse learners then are offered a menu of options, each of which they have to think about to discern their relationship to the other argumentational components in the activity, and their relationship to their understanding and interpretation of the play's characters.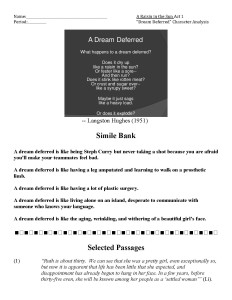 Here is a sample of the similes we came up with and placed in the differentiated version's "simile bank" —
A dream deferred is like being NBA Most Valuable Player Steph Curry, but never taking a shot because you are afraid you'll make your teammates feel bad.
A dream deferred is like having a leg amputated and learning to walk on a prosthetic limb.
A dream deferred is like living alone on an island, desperate to communicate with someone who knows your language.
A dream deferred is like the aging, wrinkling, and withering of a beautiful girl's face.
Students select the simile they think best expresses a particular character's way of understanding and processing their inability to achieve their dreams in the play, and then match it with the passage in the "selected passages" set that serves as supporting evidence, analyzing in the "reasoning" section of the activity the closeness of the connection.  Diverse learners are also encouraged to assimilate these supports as models, enabling them to come up with their own similes and evidence instead of choosing from the prepared menu options.
When the essential components of academic argumentation are understood and normalized in a classroom, rich opportunities open like the one demonstrated in this activity for highly discipline-specific applications and development of college-directed work on teacher-selected curriculum content.
Well done, Ms. Handelman!