E-Books on Art Arguments: Bringing Together Art as a Theory of Knowledge, Digital Learning, and Argumentation
By Vickki Willis
As an International Baccalaureate Theory of Knowledge instructor, my goal is to provide students with not only a deeper understanding of the branches of liberal arts learning, but also with real world learning experiences that they can use past high school and moving into college and the workplace.
The objective with my unit on "E-Books on Art Arguments" is to give students a new creative outlet and skill set: digital design. The concept of E-Books is not new; however, it may be new to your students. I used it as a digital learning tool to develop their understanding and appreciation of art, and the controversies and academic arguments that have arisen around several of the most famous and accomplished European and North American artists of the past 100 years.
The unit focuses on six artists (three of them Hispanic): Frida Kahlo, Claude Monet, Georgia O'Keefe, Pablo Picasso, Jackson Pollock, and Diego Rivera.  E-books take presentation slides and give them a serious tech-upgrade, as they use interactive tools to demonstrate content knowledge and argumentational skills.  Students are directed to an Educational Technology list of several companies offering free e-book templates.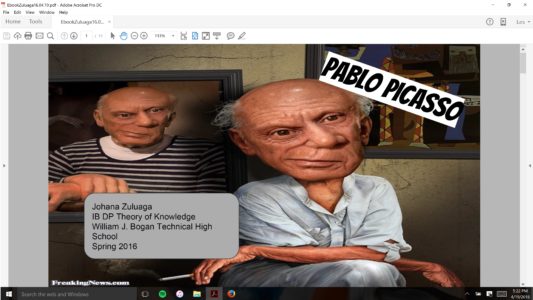 On each page of the websites that students create around the artist that they choose they are making arguments or addressing other views, on a debatable or controversial issue in interpretation or artistic placement or the like for that artist.  So, for example, students who produced their e-books on Pablo Picassso could address the issue of the artist's attitude toward women:
Was Picasso's work (and the artist himself) misogynistic and exploitative, or was he actually a feminist, depicting the power of women in his work and life?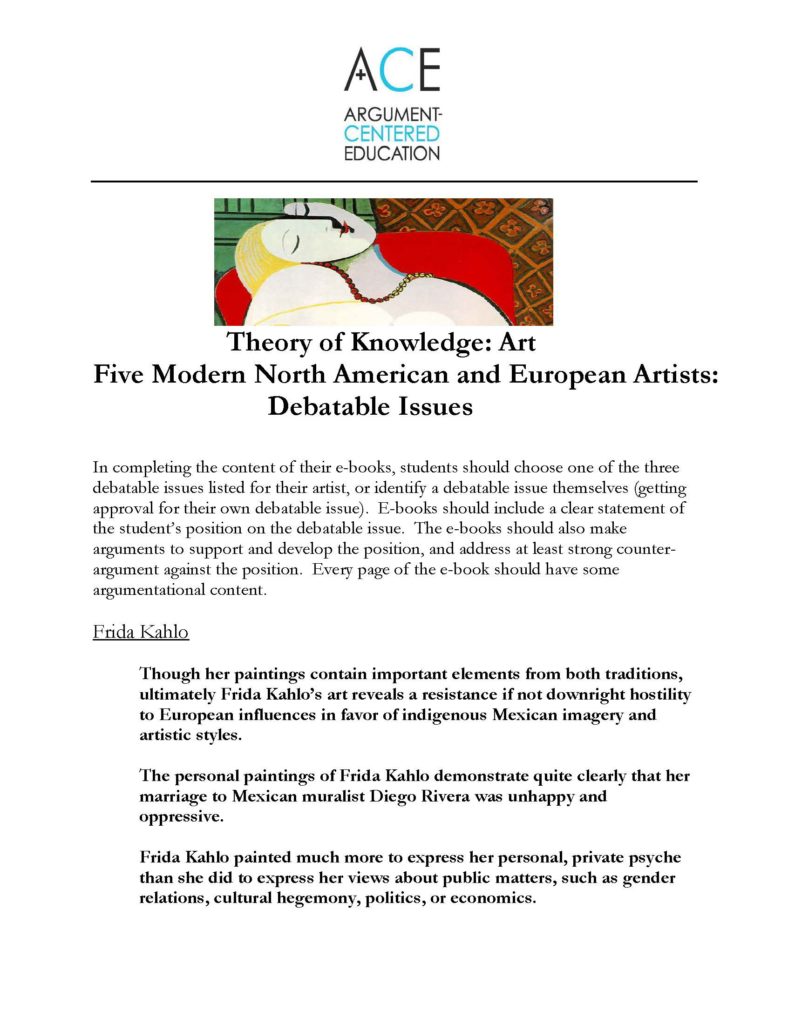 The document above itemizes the debatable issues this project put forward for each of the six artists.  Students have the option of choosing one of the three debatable issues provided for their artist, or researching and writing their own debatable issue, submitting it for approval.  The e-book should clearly state the student's position on the debatable issue, and each page of its content should advance an argument (or respond to a counter-argument) that supports the book's position (which of course can also be called its larger or overall argument).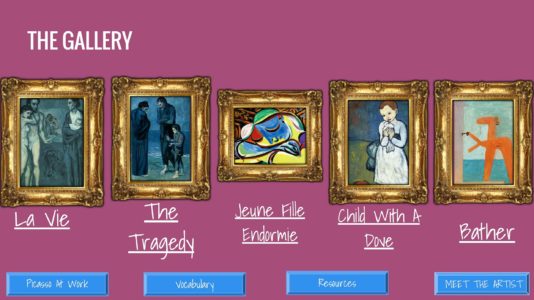 "E-Books on Art Arguments" is an exemplary project in my use of Google Applications for Education (GAFE).  The students' e-books will be published as part of the IB Diploma Programme requirement. A lot of teachers under-appreciate the IB DP components in their curriculum, but I believe that in order to prepare my students for college and career, within the IB framework, skills with technology complement argumentation and thinking skills, as I hope that this e-book project underscores.
Vickki Willis is the 10th grade Lead Teacher at William J. Bogan Computer Technical High School (Chicago, IL).  She was TeachPlus Fellow in 2015, a National Endowment for the Humanities Fellow in 2013, and a Yale National Teacher Fellow in 2008. She is also a OneGoal professional development provider.