Organizing a Unit by Debatable Issues: 'Number the Stars' and a Curricular Organizer
Fundamental to coherently argumentalizing literacy curriculum is solving this puzzle: how will debatable issues or essential questions actually and effectively organize all aspects of a unit, including content delivery, discussion, performance tasks, and assessment.   There are many means to building in this coherence to unit planning and implementation, of course.  What's important is to use tools that are applicable to the dimensions and resources specific to the unit and its curricular approach, but that also fulfill the generalized purpose of tying all elements of a unit, whether loosely or tightly, back into its driving arguable questions.
One of Argument-Centered Education's middle school partner's English language arts department teaches Lois Lowry's young adult historical novel Number the Stars (1989), which tells the story of a teenage girl's rise to a kind of heroism in Nazi-occupied Denmark in the early 1940s.  In working together on this four-week unit we were able to set in place discussion-based activities, within each chapter-cluster (one cluster per week), so that the activities are driven by a set of questions on those chapters , all organized around the debatable issues.
Two of the three debatable issues on the novel were in place in the department; ACE suggested the third (on whether the novel is optimistic and uplifting).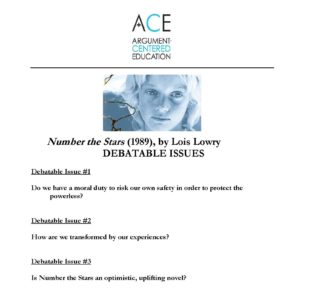 We designed a set of questions, pertaining to each chapter-cluster, that will help students think through the debatable questions, and begin to search for evidence that they will use to support an interpretive position on these issues.  These guiding questions we assembled into a curricular organizer, illustrating how they align with the issues.  We decided to maintain the consistency and regularity of using two guiding questions in each chapter-cluster for each debatable issue.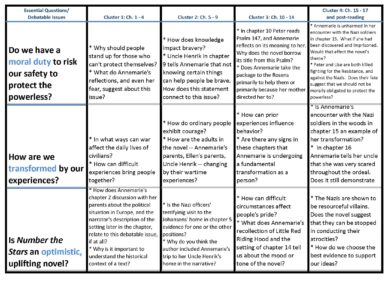 Use of a curricular organizer to organize guiding questions that form discussion-based and short-writing activities around the unit's debatable issues worked very well for this unit on Number the Stars and its dimensions and features.  It can be adapted to a wide range of curriculum for the purpose of establishing curricular coherence and focal continuity on academic argument over the unit's essential content.