Arguing Math: Justify and Critique Solutions to Algebraic Relationships in Two Variables
Current standards in mathematics require that students be able to "construct viable arguments and critique the reasoning of others" (Common Core Standards, Standards of Math Practice 3).  Further, "mathematically proficient students . . . justify their conclusions, communicate them to others, and respond to the arguments of others."  This activity has students justifying and making arguments for their solutions to higher-order thinking math questions, and it has students questioning or critiquing the solutions of their classmates. 
These Justify and Critique activities are based on middle school mathematics content of algebraic relationships in two variables, and are aligned with Go Math: Middle School Grade 6 and Grade 7/8 (both Houghton Mifflin Harcourt, 2014).  The questions used in the activities are adapted from the ACE "argument-based mathematics reasoning" question set and activity.
Note that 'critique' doesn't mean exclusively 'contradict.'  'Critique' can mean agree but with a difference, a variation, or a slight difference in explanation.  The important thing is that there are competing ideas in play.
"Algebraic relationships in two variables" problems include graphing scatter points, tables with two variables, independent and dependent variables, algebraic equations with two variables, such as y = 3x + 14; and real-world applications of all of these algebraic elements.
Here are the problems that the 6th grade argument-based activity Justify and Critique Solutions to Algebraic Relationships in Two Variables aligns with: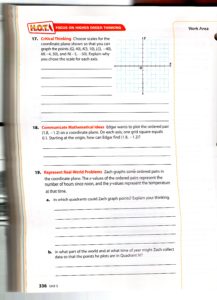 And here are the 7th/8th grade problems: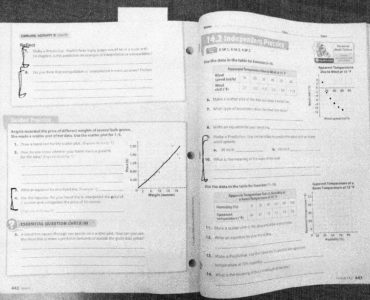 The activity itself pairs students, and then matches pairs into groups of four, one pair matched with one pair.  Each group of four is assigned two problems involving algebraic relationships in two variables, which both pairs solve.  Each pair is also assigned a "justify" question and a "critique" question for each problem.  Here's an example:
Problem 9 (12.2, p. 344)

Justification

What broader principle or rule does your reasoning seem to suggest is generally true in math?

Critique

What do you think about what the other pair just said? How solid and thorough was their reasoning?
After solving the problems, groups are called by the teacher to the front of the class, one at a time, for their chance to justify their own solution to the problem, and critique the strategy and reasoning of the other pair.
The full activities follow.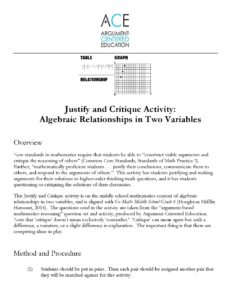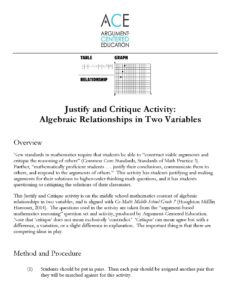 The Justify and Critique activity is currently demonstrating how argumentation improves mathematical reasoning and critical thinking skills in several ACE partner middle schools.