School-Specific Posters Promoting an Argumentation Initiative
One of Argument-Centered Education's partner schools — James H. Bowen High School (Chicago, IL) — is in the midst of a multi-year commitment to argumentative literacy as its Targeted Instructional Area (TIA).  Bowen is organizing instruction around academic argument, across all disciplines, and is measuring student performance growth, school-wide, on their TIA three times yearly.  They have also committed to intensive and on-going professional training and in-class implementation coaching and support in incorporating rigorous argumentation on all classroom projects and assessments.
As part of its commitment, Bowen commissioned us to produce a poster promoting its Targeted Instructional Area.  We produced this piece for Bowen, a service we offer partner schools as part of our service support for high-impact initiatives like Bowen's.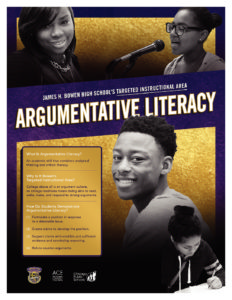 If your school is engaged in an effort — systemic and long-term, or more limited in scope — to bring or to enhance college-directed, rigorous, results-affecting academic argumentation in your classrooms, contact us to discuss how we can support your initiative and help ensure its full value and impact.  Simply email info@argumentcenterededucation.com or call 312-646-2180.