'The Witches' and Argument-Based Discussions Linked to Key Passages
Argument-Centered Education has designed a new method of organizing teaching and learning around academic argumentation in ELA literature units.  The strategy is one we call Argument-Based Discussions Linked to Key Passages.  We recently collaborated with ELA teachers with one of our middle school partners to adapt this instructional format to a unit on Roald Dahl's 1983 young adult novel, The Witches.
Dahl's work has generated a certain amount of controversy in these times of political readings of literature and historical documents and artifacts.   The Witches has been criticized by some for indulging in a certain indirect misogyny: the witches in the story are at one point defined by the narrator as singularly female.  But the work has plenty of supporters as well: in 2012 The Witches was ranked 81st on the School Library Journal's list of the 100 greatest young adult novels ever written.
The question of the book's attitude toward women and girls is one of the three debatable issues that we have established in teaching the novel.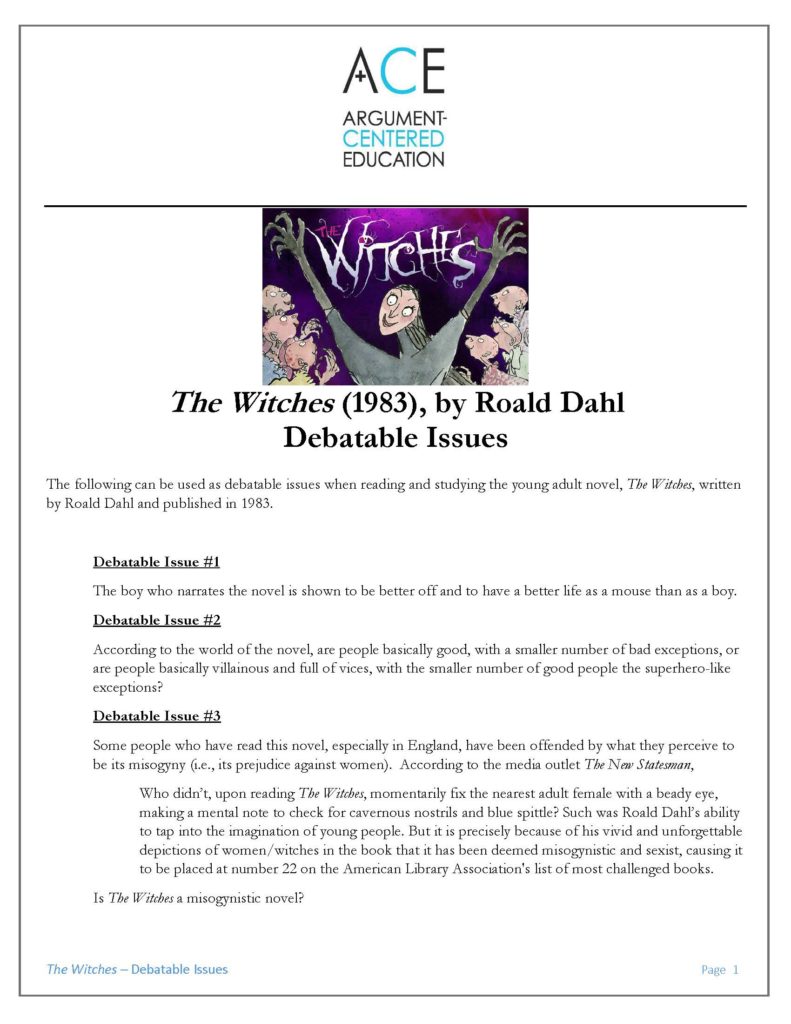 The question of misogyny, however, was not one that we designed an adaptation of the new strategy Argument-Centered Discussions Linked to Key Passages around.  The two debatable issues in this project are below.
Debatable Issue #1

The boy who narrates the novel is shown to be better off and to have a better life as a mouse than as a boy.

Debatable Issue #2

According to the world of the novel, are people basically good, with a smaller number of bad exceptions, or are people basically villainous and full of vices, with the smaller number of good people the superhero-like exceptions?
The project itself takes 3 – 4 50-minute class periods to implement.
Method and Procedure
(1)
For this project, students should be divided into groups of three.
(2)
Groups should be given 5 minutes to discuss each of the following passages from the novel — so a total of 70 minutes of discussion.  For each passage through their discussion they should try to respond to these four questions:
A) Which debatable issue does the passage connect with most closely?
B) Which position on that debatable issue does the passage support?
C) What reason does the passage suggest for why that position on the debatable issue is truer than the opposing position on the same debatable issue?
D) Through an analysis or close reading of the passage, explain why it supports that reason?
(3)
Each student should write out responses to each of the questions on their own form. If there are disagreements during the discussion – which is perfectly fine, and often reflects the kind of independent thinking we are encouraging – students should write out the responses they believe in, noting that group members had a different view.  At the end of class, these forms should be collected and formatively assessed.
(4)
After the small group discussion period has ended – and the discussions can be timed fairly closely – the teacher should lead a share-out, asking groups to report back on the responses they feel reflect their best collective thinking, or that featured their strongest internal disagreements. The teacher should ask groups to respond to other groups' answers, culling out differences, asking how groups would counter or refute an opposing response, and calling on students to evaluate clashing responses.  All of this is to build in critical thinking that comes when students engage with each other's ideas.  The key is not to get to a right answer on these passages, but to practice and sharpen students' interpretive argumentation.
With our partner school, we created an anchor chart to model responses to passage #6.  That model is below, followed by the passage.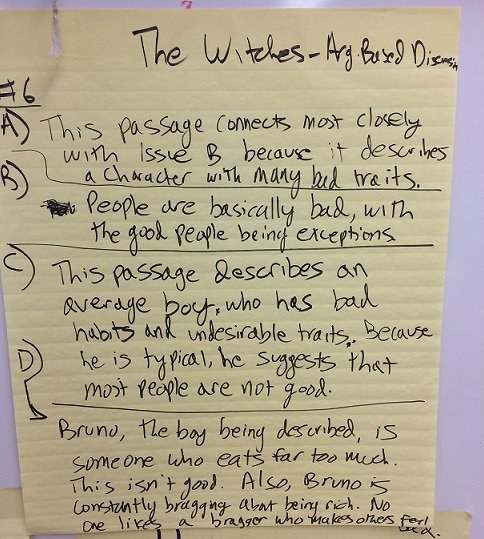 "'Where are those chocolate bars you promised me? I'm here to collect! Dish them out!'

"'He is not only smelly, he is also grrreedy,' said the Grand High Witch. . . .

"Bruno Jenkins . . . was one of those boys who is always eating something whenever you meet him . ..  . Bruno never stopped boasting about how his father made more money than my father and that they owned three cars" (99).
Argument-Based Discussions Linked to Key Passages can be used across literature and history curriculum.  In coming Debatifier posts we will demonstrate additional adaptations of the format.