Another Argument-Based Seminar in Action
I've been working with partner schools on argument-based seminars a lot lately.  It's been gratifying to see them going as well as they've been going.  With one of our partner schools — Helen B. Peirce School of International Studies in Chicago — the 8th grade team of teachers recently concluded their House on Mango Street unit with a seminar.
The culminating seminar, like much of the unit, was organized around two debatable issues formulated by the teachers themselves.
(1) Does a person have a moral obligation to come back to improve the low-income community that that they climbed out of, according to the novel?

(2) Are men largely at fault for the unhappiness that is present throughout the Mango Street community?
Here's a video clip from the argument-based seminar.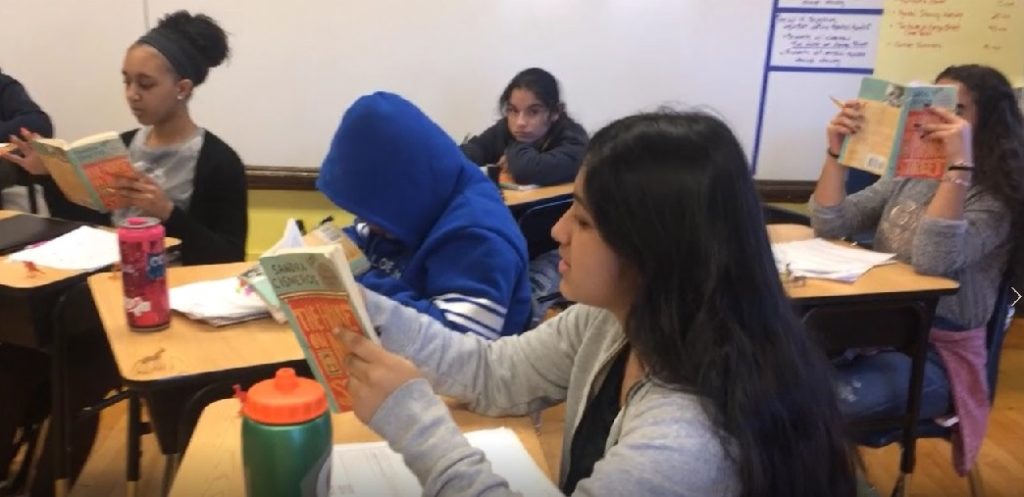 There is a lot here to celebrate, affirm, and build from.
Students are focused and attentive throughout
Everyone, without exception, is supporting their interpretive claims with evidence from the text
Students are attempting to analyze text, including placing it in context of the vignette from which it is taken, to reason through how the text supports their interpretations
This seminar incorporates all student-written questions that students are posing to each other; there is a substantial student agency component here built in to a well-planned preparation process before the seminar
The 8th grade team at Peirce and I will be working to enhance and expand a couple of very important elements of challenging, thought-rich, academically productive seminars.
More responsiveness and refutation
We want a clash of ideas and interpretations, which drives critical thinking.  This is essential to argument pedagogy.  Use of refutation constructs is an important part of this.  ("Makayla said that Esperanza is actually improving her community by writing about it.  I see her point, but I don't think that's fully true.  She's helping herself and achieving her own goals by writing, but none of the characters' lives will be changed back on Mango Street . . . . ")  We want to see students summarize the argument, respond to the argument, back up their response.  A simple but very powerful three-step process.
Greater connection between individual questions and interpretive answers to those questions, and the larger debatable issues that frame the unit.
Eighth grade teachers at Peirce — Ms. Jenny Gerhardt and Ms. Destiny Hooper, estimable professionals both! — came up with two great debatable questions.  We want students to be building and defending positions (and changing their minds on their positions, certainly, if they are convinced by a more compelling interpretive argument and more authoritative analysis!) through the smaller-scale, individual interpretive questions they answer.
With further growth in these two areas we are taking argument-based seminars, and the reading and writing work that precedes and prepares for them, from the "very good" to the "truly outstanding" at Peirce International School.