Argument-Centered Education was created by one of the leading architects of the movement to bring academic debate to urban school systems around the country, with the support of some of the most influential voices in argument pedagogy, in order to achieve college-readying rigor and engagement in K – 12 classrooms by helping teachers build instruction around argument.
Argument-Centered Education is in the capacity-building business. We work to ensure that a school, or a network, or a district can meet its academic objectives by expanding teachers' professional skill set and approach. We work with teachers directly, closely, collaboratively, in professional relationships that result in their own heightened professional satisfaction and effectiveness, and their classrooms attaining more higher-order and college-directed learning for all students.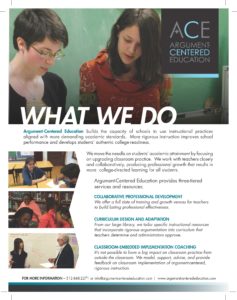 Argument-Centered Education enhances the instructional impact and professional morale of its partner-educators. It does this by transferring professional capacity and expertise to K – 12 teachers to become masterful at teaching their content areas through structured argumentation activities and debating formats.
Argument-Centered Education believes in and strives for education transformation. We are committed to making a deep and lasting positive impact on every teacher, every classroom, every administrator, every network, every district with which we partner. Our model for transformation is organized around three education services:
Collaborative Professional Development – Workshops, trainings, seminars delivered in a wide-range of formats, including electronically, but all based in a uniquely collaborative and interactive approach, and conducted by national leaders in the field with unparalleled experience
Curriculum Design and Adaptation – Argument-Centered Education works with curriculum directors and specialists, departments, and individual teachers to argumentalize curriculum being taught, and to carefully tailor and adapt applicable materials and resources from among its own vast and proprietary library or argument-centered resources.
Implementation Coaching – School-embedded implementation coaching is recognized by extensive research to be by far the most effective way to change instructional practice, and it's the key to our approach. With a unique three-pronged method of classroom coaching, Argument-Centered Education is able to make good on its claims to effect powerful and lasting expansions in teaching capacity.