Argument-Centered Education is a results-oriented, performance-based organization that has a verifiable impact on every educator, administrator, school, network, and district with which it partners. Though there are distinctions to be drawn, we realize that education leaders have plenty of education service organizations to choose from when looking for a partner to help them achieve their objectives.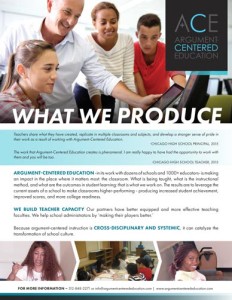 Argument-Centered Education — it its work with dozens of schools and 1000+ educators — is making an impact in the place where it matters most: the classroom. What is being taught, what is the instructional method, and what are the outcomes in student learning: that is what we work on. The results are to leverage the current assets of a school to make classrooms higher-performing — producing increased student achievement, improves scores, and more college readiness.
Unlike some other education service organizations, Argument-Centered Education builds teacher capacity. Our partners have better equipped and more effective teaching faculties. We help school administrators by 'making their players better.'
Because argument-centered instruction is cross-disciplinary and systemic it can catalyze the transformation of school culture.
There is a very strong research basis that supports the claim that argument-centered instruction results in dramatically improved student writing, college-readiness in English and reading (based on ACT benchmarks), and other standardized testing measurements.
Our partner administrators and teachers have consistently rated Argument-Centered Education services very highly. Here is a small sample of the most recent testimonials from leaders who endorse our work.