While a lot of authoritative research – from the University of Chicago and other top research sites – supports the efficacy of infusing literacy instruction with evidence-based discussion and frequent writing, the research referenced below documents the impact that argument-centered instruction itself is having in several sites where it has been implemented intentionally.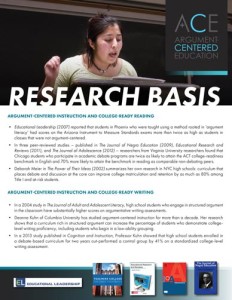 Mike Schmoker, in Educational Leadership (2007), reported that low-income students in Phoenix who were taught core subject areas using a method rooted in 'argument literacy' had scores on the Arizona Instrument to Measure Standards (AIMS) exams that were more than twice as high as students in classes that were not argument-centered.
In three peer-reviewed, carefully controlled studies – published in The Journal of Negro Education (2009), Educational Research and Reviews (2011), The Journal of Adolescence (2012) – researchers from Virginia University found that Chicago students who participate in academic debate programs are twice as likely to attain the ACT college-readiness benchmark in English and 70% more likely to attain the ACT college-readiness benchmark in reading as comparable peers who did participate in academic debate in high school.
In a 2004 study that appeared in The Journal of Adult and Adolescent Literacy, Mark Felton and Suzanne Herko observed that high school students who engage in structured arguments and debates in the classroom have substantially higher scores on argumentative writing assessments.
Deanna Kuhn has studied argument-centered instruction for more than a decade. She writes that the biggest academic impact of a curriculum rich in structured argument is how dramatically it can increase the percentage of students who demonstrate college-level writing proficiency, including students who begin in a low-ability grouping.
In a 2013 study published in Cognition and Instruction, Professor Kuhn showed that high school students enrolled in a Columbia University debate-based curriculum for two years out-performed a control group by 41% on a standardized college-level writing assessment.
In the 'Research Appendix' to the Common Core State Standards, the authors quote Gerald Graff: college is an 'argument culture,' and 'argument literacy' is the key to college readiness, though currently only 20% of HS graduates are argument literate.
Deborah Meier, in The Power of Their Ideas (2002), summarizes her own research in NYC high schools: curriculum that places debate and discussion at the core can improve college matriculation and retention by as much as 80% among Title I and at-risk students.