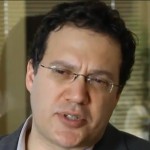 Les Lynn is the founder and chief of Argument-Centered Education, which is now in its fifth school year.  ACE is working extensively with the Chicago Public Schools Office of Teaching and Learning, helping it "debatify" its curricular offerings to its more than 600 schools.  ACE is also working in an intensive, school-embedded way with more than 300 teachers from nine middle and high schools in and around Chicago and Northwest Indiana, and two charter schools and a charter network in New York City.
Mr. Lynn has 24 years of experience as a leader in public education.  In 1997 he became the founding executive director of the Chicago Debate Commission (CDC).  Administered by the CDC, the Chicago Debate League has taught thousands of public school students to debate and has professionalized hundreds of teachers and coaches of competitive debate.  There are now 78 schools in the CDL and about 1,500 students who participate in 34 debate tournaments and nearly 200 hours of training and professional development each school year.
The Chicago Debate League is the largest Urban Debate League in a 19-city Urban Debate Network of which Les Lynn has been a leading architect.  In 2002 Mr. Lynn was named founding executive director of the National Association for Urban Debate Leagues, where he developed the Urban Debate League Model that is now in use in cities across the country.  In his work with the NAUDL, Mr. Lynn conducted professional development workshops on argument education for teachers from nine of the nation's largest urban school districts, including New York City, Los Angeles, Detroit, Dallas, Seattle, and Memphis.  In all, Mr. Lynn has taught and trained more than 2,500 high school and middle school educators in the use of debate and argumentation over a 20-year period.
Les Lynn has also been a leader in the movement to apply to the regular classroom the principles and elements that make academic debating so rigorous, a project he named "curricular debate."  Chicago Public Schools has employed Mr. Lynn as an advisor on their teacher training and professional development since 2009, which time he has worked with hundreds of teachers to incorporate evidence-based argumentation, refutation, and critical thinking skills into their instructional practices.
Prior to founding the Chicago Debate League and the NAUDL, Mr. Lynn was an English teacher at Whitney Young Magnet H.S., where he won two Mellon Fellowships, an Oppenheimer Fellowship, and an NEH Fellowship.  He completed a Master's and doctoral coursework in English Literature at the University of Chicago and received his B.A. in Communications and English from Northwestern University.