Argument-Centered Education partners with schools, education networks, and school districts to build teacher capacity, transform school culture, and produce measurable academic performance gains by making teaching and learning argument-centered.
In its diverse and varied partnerships, Argument-Centered Education provides three-tiered services and resources.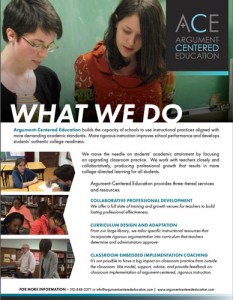 Collaborative Professional Development
Workshops, trainings, and seminars delivered in a wide-range of formats, including electronically, and all based in a uniquely collaborative and interactive approach, and conducted by national leaders in the field with unparalleled experience.
Curriculum Design and Adaptation 
Argument-Centered Education works with curriculum directors and specialists, departments, and individual teachers to argumentalize curriculum being taught, and to carefully tailor and adapt applicable materials and resources from among its own vast and proprietary library of argument-centered resources.
Classroom-Embedded Implementation Coaching
Classroom-embedded implementation coaching is proven by extensive research to be the most effective way to change instructional practice, and it's a key to our approach. We model, support, advise, and provide feedback on classroom implementation of argument-centered, rigorous instruction.
Contact Argument-Centered Education to discuss your needs and interests and we will arrive at the partnership configuration and terms that are right for you.